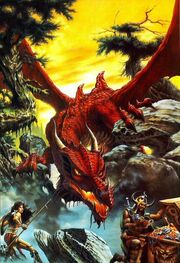 Dragons have long been portrayed as a mythical and unreal beings, but is it possible that the animal appears remarkably similar in all the world's cultures and be one of the first science, Dragonology, studied in the Middle Ages? The answer to these questions is found in one of three complete skulls of T-Rex, on the crown of the king of the dinosaurs. At the top of the skull were found in three talon marks, we applied correctly, a side we observe that the skull was on fire. This suggests that the Tyrannosaurus attacking predator who has not known, and we actually forgot. I do not know exactly how it came to be, but all in all, in a cave in Romania's Carpathian Mountains, found no less than in the ice preserved body of a baby mountain dragon. Study of the skull was found "flap" at the beginning of the throat, which we can find a crocodile, who survived the "mass extinction of dinosaurs." Thus we get the information that the animal that attacked T-Rex definitely a dragon. For example we take a typical mountain dragon. He had big teeth with some kind of armor, and molars like ours, to them kept flint, which would come in contact with hydrogen gas produced fire. Hydrogen was created in the second pair of lungs, which are also allowed to kite, despite their relatively small wings, lifted into the air. Males mountain dragon had Moca cooling, while females breathed fire.These traits were necessary to safeguard the eggs that are kept in a stone nest. Mother would heat the nest, father would cold it, that nest had the required temperature for hatching eggs.
- Dragon species -
By researching stories and myths, we discovered many species of dragons. There are some of them:
-Marine dragon
-Forest dragon
-European dragon
-Knucker
-Red dragon
-Forest dragon
-Wyvern
-Mountain dragon
-Long
-Tibetian dragon
-Lindworm
-Silver dragon
-Green dragon
- Brass dragon...
Ad blocker interference detected!
Wikia is a free-to-use site that makes money from advertising. We have a modified experience for viewers using ad blockers

Wikia is not accessible if you've made further modifications. Remove the custom ad blocker rule(s) and the page will load as expected.