If you know something more about this article, please tell us!
Silver Dragon is one of the largest dragons in general. Belongs to the family of so-called metal dragons, and as we learn from the historical record, it is the gentlest of all the dragons. Quickly establish contact with people, and you can see it at the high mountains. He likes fresh air and clear skies.
-
Description of specimen
-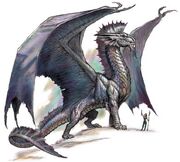 This powerful dragon has two large leather wings and rather short legs. His front legs are longer than the last, and his neck is quite long. Has a leather crest along the back, long tail and neck at the end of which there is a large and strange head. The head has two long cross, resembling the ears, and also the lower jaw is adorned something like a small beard.